Storage/bonded storage/Customs clearance in Canada

Making an international move is one of the more exciting life changes for anyone. A move abroad represents the opportunity to set out on a new adventure and explore new horizons. When you use the right tools and enlist competent support (which is what Canada Moving International is able to provide), your move will go seamlessly!
Assisting clients in finding the best and most affordable shipping isn't our sole wheelhouse. We're also a fantastic resource for finding suitable and affordable storage for your belongings while you sort out your new residence overseas, and we also have some great tips that will ensure that your new adventure goes smoothly.
What Is Bonded Storage?
Bonded storage (also known as bonded warehouses or customs warehouses) are storage facilities in which you can store goods without having to pay duties upon them.
How does that work? We'll illustrate with an example:  Frank is moving from Germany to Toronto. He's shipped his things to Canada, but he's still looking for a place to live. Frank can leave them in bonded storage until he's ready to move.
What Are the Other Advantages of Using Bonded Storage?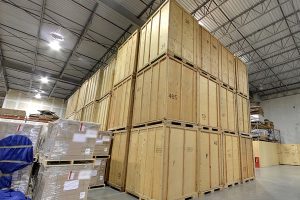 For a start, you can store goods there for at least 40 days (longer with written permission from CBSA). That's a pretty important fact to know if it takes you longer than expected to find a place to live.
Second, these warehouses are specially equipped to preserve your belongings. They're temperature controlled, so you don't need to worry about mold or damage from the heat or cold. That feature gives you peace of mind.
Third, bonded storage is highly secure. Only authorized personnel can enter them, and they are safeguarded by state-of-the-art systems. So, as long as your belongings are stored there, you don't have to worry about them being damaged or stolen.
Fourth, it doesn't matter how little or how much you're shipping – chances are that the bonded storage facility can accommodate your shipment. This is good news if you're shipping a large amount of things (such as the contents of your home) or if you're shipping something small yet quite valuable (such as a painting that's worth thousands of dollars).
Fifth, moving companies generally run bonded storage facilities. When you're ready to move your belongings, the shipping company can load the items onto a truck and deliver them to wherever you need. That means that's one less hassle you have to worry about when you're ready to move.
Canada Moving International: We Offer Safe and Secure Bonded Storage Facilities
If you're moving to Canada and you can't clear customs at the port of entry, Canada Moving International can store your goods in our bonded storage facility. Our bonded storage solutions are convenient, secure and economical. Canada Moving International's warehouse is big enough to store household belongings as well as cars. When you use Canada Moving International's storage facilities, you have peace of mind that your belongings are safe from theft and damage.