Library Moving Company – Dedicated Division of Experts Movers
A Delicate and Organized Procedure

Library moving can be a daunting task. With over 30 years of experience, Canada Moving is the best moving company with expert and professional movers that are well-trained and seasoned in the art of library moving.
If books that are organized by serial number become reorganized, or high valued books are damaged during the library move, un-wanted moving costs and delays in the reopening could arise.
Canada Moving has moving equipment that is specifically made for library moves and with our unique organization methods we can move your collection so that books remain safe and in their correct order of call numbers at all times. Our professional movers are also trained to ensure your books remain in perfect condition.
We also offer storage options and storage containers to ensure your library move is seamless, no matter the situation. We do this all while keeping moving expenses and moving costs to a minimum. Call now to get a free library moving quote from one of our library moving divisions today.
Planning Your Library Move
Planning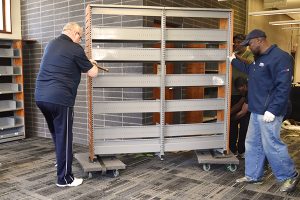 Many different aspects and stages of planning go into a library move. A library moving specialist will come to inspect the items that need to be moved, estimate the amount of movers needed for the job, as well as assess the current layout.
The moving specialist will then take the time to discuss the required steps for a successful library move and provide a moving quote, with a breakdown of the moving costs. These steps will take into consideration the:
Size of the library
Amount of books, journals and archives
Distance of the library move
Amount of necessary pre and post move consulting services
Storage solutions
If any phase planning **link** is necessary.
Consulting Services
We also provide an array of library moving related consulting services that range from shelving styles to different layouts that will fit your budget and feasibility studies during your library move. This library moving service was developed to help take the pressure off of library staff and services.
Your staff can of course be as involved in the process as you like, whether that is fully or not at all.
What Makes Us Exceptional?
Over many years of library moving, we have developed different moving tricks and moving systems that allow for a quick and orderly library move. Some of these moving tricks and systems are specialty moving equipment.
Our unique flagging method allows us to move your collection so that books remain in the correct order of call numbers at all times. Our experienced and professional movers then uses our own custom built "book carts" to transport the flagged books.
This saves you money on moving expenses and allows us to stay within your budget.
Flagging System
When our professional movers begin a library move, they flag each section of books. The movers then transfer them to the shelf that they will be moved into. This way the library books stay in order before, during and after the move is complete.
BOOK CARTS
Another piece of moving equipment our professional movers use during our library moves is book carts. These sturdy carts are made of a strong wood and have several shelves.
Our carts can hold in excess of 800 pounds, which makes them ideal for transporting hundreds of books during a library move. These carts are also constructed with wheels on the bottom for easy moving.