Best Car and Vehicle Moving Company – Since 1890

Want to move your car within Canada, Cross border or Internationally? At Canada Moving, we have quality movers with years of training that can relocate your car or vehicle(s). Moving cars is our niche!
We've been moving cars since cars were invented. So it's safe to say we know what's the best techniques needed to ensure your car or vehicles arrives without a scratch.
In addition to being able to move your personal car, we offer quality moving services for:
Antique Cars
Sports and High Performance Cars
RVs
Snowmobiles
All terrain (ATVs)
Moving Your Car or Personal Motor Vehicles Cross-Border (U.S.)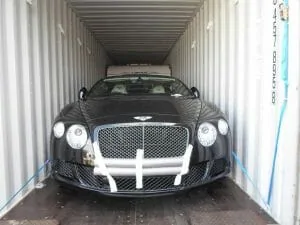 If you're moving to or from U.S., your car and personal motor vehicles must pass local requirements to be allowed to cross the border.
We work with professional auto transport companies that are prepared to assist you with the documentation, pick up, and deliver locally all within reasonable timelines.
Some links to assist:
10 Tips to Prepare Your Car and/or Vehicle for Transport
Here are 10 useful tips to we suggest you do to help you prepare for shipping your car or vehicle
Give your vehicle a good wash regardless if your car will be shipped in an open trailer. This is key when noting any chips, dents or cosmetic damage to the moving company.
You should remove whatever personal belongings from your vehicle especially cash and valuables like prescribed sun and eyeglasses.
Deactivate the vehicle's alarm system.
Save money by not fueling up; moving companies charge per pound so if possible keep the bare minimum fuel in your tank.
Remove all those bell and whistles from the exterior of your vehicle (eg. fog lights, spoilers and antennae).
Fold back your driver and passenger mirrors.
If you're shipping a convertible, ensure that the top is up and safely secured. You may also want to seal holes and any seams to prevent moisture from entering and causing damage. This step is very important if you're shipping in an open trailer.
Check your battery levels, tire pressure and top up the fluids.
Be sure to notify the moving company if there are fluid leaks.
The most important step, create a detailed report of any existing damage to your vehicle and document the damage and current condition of your care with photos. Review the report with your moving company.