A transition at any point in life can be stressful, especially when a large period of time has been spent in one place. We're the leading expert in all categories of moving, including senior moving services. Here's why.
We have custom made services specific for senior moving like packing, checklists for downsizing, removal services and permanent or temporary storage solutions.
So, if you or your loved one have decided to downsize, or relocate to a senior living facility/senior housing, our expert staff will help facilitate the move. We'll custom build the right plan of action  for you or your loved one's senior move.
Ask about our moving assistance program for seniors.
Specialized Services for Senior Moving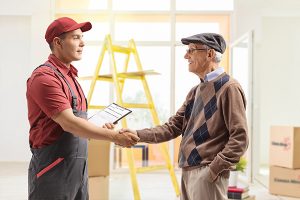 There are many services and stages that are necessary during a senior move. Our senior moving services include:
Planning for your move
Unpacking and set-up
Safe storage of personal items
We also provide several additional services that are specific to senior moving in order to ensure a stress-free senior move. These are:
Coordinating when moving to senior living facilities or senior housing
Consideration of your family's wants and needs
Senior specific discounts
We can help with the planning process and provide all services that you would need to help your parents make an easy transition to their new home.
Retiring Abroad
Canada Moving is experienced in international moving. If you are a senior planning on retiring abroad, our senior moving company can help. Many seniors retire abroad for the positives of:
Lower cost of living
Access to affordable and unparalleled healthcare
Change of lifestyle
However, retiring abroad does involve stressful situations such as:
Leaving behind a majority of your belongings
Losing familiar surroundings
Leaving your friends and family
Reputation and Track Record
We have been in business for more than 125 years and are Canada's largest family owned moving company
We are members of Canada's largest Van Line (UVL) and the Canadian Association of Movers, both have strict codes of conduct
Our movers are screened and trained
No matter the reason for your international senior relocation, Canada Moving can help with the paperwork, the transition, and the move.