FTL – Full Truck Load Freight

FTL – full truck load freight means that your goods travel alone on a dedicated trailer from Point A to Point B, without being moved, repacked, or otherwise handled in transit. Choosing this option means either you:
are shipping enough goods to require a full trailer;
require exclusive use of a trailer; or
need your goods to ship directly.
When you are shipping high volume, or high value freight, trust the freight experts at Canada Moving. Our vast network of trucks, drivers, and equipment allow us to expertly service your full truck load freight needs. Our high volume, secure fleet of trailers come fully equipped with straps, pads and everything else we need to keep your shipment safe, and deliver it on time.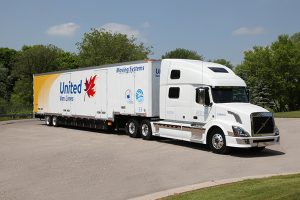 Canada Moving's Full Truck Load Freight Services Provide You With:
Quick and secure dock to dock pickup and delivery. Expert team members who are well versed in handling all kinds of freight, including medical, hotel, and kitchen equipment. Peace of mind, knowing your high value and fragile goods will arrive safely and on time.
All of our drivers possess an AZ license, and go through an intensive training program that covers defensive driving, proper loading and unloading techniques, as well as several other safe transportation practices.
We also offer special commodities services for when your shipment needs to be placed, unpacked, or carried up or down the stairs.