Professional Packing Services

In the chaos of moving preparations, one of the most important parts often doesn't get enough attention until the last minute – Packing! Moving large items has its challenges, but is truly the most difficult part of moving.
Protecting small and delicate items with proper packing is crucial. Canada Moving has over 100 years of experience in packing at rates that is sure to fit your budget.
From everyday household dishes and fragile items, to sophisticated medical equipment, we can pack it all. Our expert staff can ensure that whatever it is that you're moving will be prepared to make the trip damage-free.
Why Choose Us to Pack Your Belongings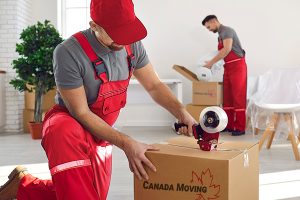 Many people do not realize that movers are not liable for items packed by the owner. Protect your belongings and hire Canada Moving packers and get the job done right. What do we do to protect your belongings?
Most common packing mistakes that occur are not filling tops and spaces in cartons with paper, or linens, to ensure contents of the carton do not shift in transit. We use industry standard packing techniques to keep your belongings from damaging during transit. Because all your items are unique, there's a different technique for everyone!
Let us pack your goods to allow you to stay living comfortable in your home until a day or two before your move date. We get you unpacked and settled into your new home just a day or two after.
We ensure our type of packing reduces the amount of boxes needed by charging most moves by by weight and time. Therefore, reducing the weight which ultimately puts some money back in your pocket.
Another benefit of going with our packing services is our Unpacking Services which is included in the costs. This makes the move-in process even more efficient. All debris is removed by us so you don't have to struggle with the empty boxes and used paper.
All goods that we pack are fully covered by our replacement value protection.
Kitchen or Breakables Packing
The kitchen is often the most stressful and time-consuming room to pack. This is essentially due to the number of items and more importantly, the level of care and careful wrapping it requires due to its fragility.
Our experienced and professional movers know how to accurately pack up your kitchen valuables. As well keep breakables safe throughout the move.
We have the right tools and equipment to ensure your kitchen and breakables are packed safely for your move. This means we can do this for a fraction of the price of a full pack!
Let us make this burdensome task as stress-free as possible for you.
Custom Packing and Crating
For high value art, granite or marble, or other unusual and delicate items, crating may be the best option. For example, you would need to crate certain parts of your pool table because it has delicate stone service. If you would like to have an item crated, please let us know. A friendly consultant will visit your home for a free, no-obligation estimate, in order to get the dimensions of your crate, and create an inventory of your items to be shipped.
Have a garage sale, donate unwanted items, and take a trip to your local dump to recycle and dispose unwanted items.
Separate valuable items, and personal information from items being packed, and keep them on your person.
Leave light, non-breakable items in the dresser and cabinet drawers. Soft light items like clothes or towels are fine as is.
You do not need to empty drawers, or take things out for our crews to pack — they will pack everything in your home right where it is.
If you are moving appliances that have a water line, disconnect it as early as you can, so our packing crews can prepare it for transit.