Cross Border (U.S) Moving

Moving to and from Canada/US offers its own challenges. We, at Canada Moving, along with our partners at United Van Lines make up the largest moving network in North America, allowing us to easily and competently service moves across borders.
Whether you are moving a small apartment or a large home, we will provide you with a safe and reliable service.
Benefits of Choosing Canada Moving for Your Cross Border Move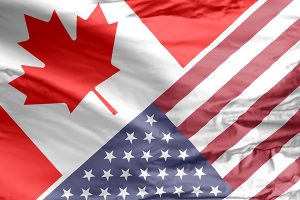 Your friendly and knowledgeable coordinator will provide you with documentation that you require to allow for entry to the US and direct you where to meet the driver to clear Canada Customs when entering Canada.
We will also advise you as to admissible/inadmissible items to lessen risk when passing through Customs.
In addition, choosing Canada Moving also gives you:
A detailed, itemized inventory of your entire shipment, including packed items.
A professional driver, with years of experience both in moving household goods, and clearing customs.
A dedicated team of support staff that are not satisfied until you are!
Quick and easy border crossings, using digital copies of required documents sent before the driver even arrives at the border.
Here are some helpful links:
Quality Service No Matter Where You Move!
Your goods are loaded into regularly inspected and fully insured tractor trailers. All units must be licensed for the areas they are entering and strictly adhere to the rules of each state/province.
We have a wide network of partners that can offer packing, unpacking, and storage if needed. We will work to accommodate your budget and timing needs.
Car and Personal Motor Vehicles – PMVs
Personal Motor Vehicles must pass local requirements to be allowed to cross the border. We work with professional auto transport companies that are prepared to assist you with the documentation, pick up, and deliver locally all within reasonable timelines.
Some links to assist:
Moving From the U.S to Canada
At Canada Moving, we want to make your transport from the US into Canada as seamless as possible.
There is a lot that goes into uprooting your life and carting your family and belongings across the border.
We will do our part in prepping your cross border move but conversely, here are some important steps of protocol for you to follow in aiding the process:
Returning Canadian Residents
Passport for each family member
Proof of length of time away from Canada (lease documents, pay stubs, etc.)
Detailed inventory listing of goods including their value (in duplicate)
Purchase receipts for goods acquired while out of the country
Non-Residents
Passport for each family member
Work Visa
Marriage Certificate for spouse
Work or Study Visa
Employer Letter or Offer of Employment
Detailed inventory listing of goods including their value (in duplicate)
Seasonal Residents
Passport
Proof of ownership or lease of seasonal property
Detailed inventory listing of goods including their value (in duplicate)
Proof of US residence
In conclusion, you can trust your partners at Canada Moving to be there to offer our years of experience to ensure your experience is the perfect move!