Warehouse and Inventory Moving – We'll Work Around Your Schedule

Our expert movers specialize in warehouse and inventory moving and can move all high-value equipment, product, and inventory because we know this specialized branch of moving can be complex.
Our staff and movers are trained in the necessary steps and precautions to take when completing a warehouse and inventory move.
We're Flexible – Canada Moving works with your schedule (weekends, evenings or nights) to minimize downtime and keep your business competitive.
We treat every warehouse and inventory move with the unique precautions required.
That's why Canada Moving has a 100% Satisfaction Rating for warehouse and inventory moves and we're voted one of Canada's Best Managed Companies.
Need Storage ? The Canada Moving Difference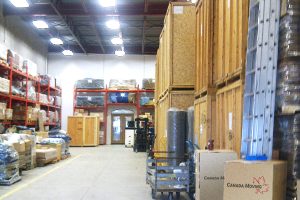 Canada Moving has Warehouse Location Across Canada. We'll keep your inventory in the order or can recommend resources to organize your items.
Our storage facilities are equipped with a tested inventory system to provide you with peace of mind. Our catalogue and inventory system features a numbered coding system and condition reporting.
We provide this service so that you know that your items will remain in the same condition from the moment you entrust us with them, until you retrieve them.
Need storage? Our reputation for quality storage solutions is reflected not only in our commitment to superior moving, but also in our storage solutions facilities and top notch units.
All of our Warehouse facilities are:
Heated
Secure and monitored 24/7
Catalogued inventory of all belongings
Optional Replacement Value Protection (RVP)
Clean & Organized
Come visit our facilities prior to booking with us!