Helpful Resources and Checklists For Household Moving

Our Moving Company has useful, guides, resources and tips to help you stay organized and prepared for a stress-free move. Canada Moving is here to help you with your office and commercial move either it be local, long distance, cross-border (U.S.) or international! Call Us for a FREE Quote!
Get a List of Canada Moving Home Moving Services – Need Storage Solutions? We can help!
Moving Your Home and Household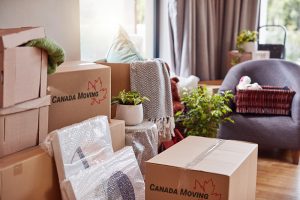 FACT: Moving is considered the top three (3) stressful events.
People automatically dread the thought of moving; either it be your first move or you're a veteran at moving. Regardless if you're moving for career advancement or downsizing (senior moving) to be closer to your loved ones, Canada Moving has do-it-yourself (DIY) moving solutions as well as full service moving. We want you to have a no-stress move with some useful planning tools.
1. How to Create a Budget When Moving Your Home
Setting a moving budget is a vital first step in the moving & relocation process. Our guides and free template will help you account for all the hidden costs associated with a move.
2. Quick List of Resources When Moving (Household Goods)