Do it Yourself (DIY) Moving Options

Even if you've decided to tackle your move yourself, there are still many ways that Canada Moving can help you have a happy, successful move. There are a few different parts of the moving process where we can help you do the best job that you can do.
DIY Container Moving and Storage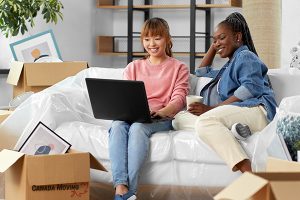 With our Do it Yourself container moving and storage options have the flexibility of 30 days to load your belonging in a spacious container at your own pace. We deliver it to your home and pick it up when you're ready to move. These moving containers have the capacity to fit most homes.
This saves you the trouble of renting a large truck you're not used to driving through narrow streets and convenience of just loading. As an added benefit the container can be used as storage if the new home you're moving to isn't ready yet.
Our mobile container storage solutions are available across Canada, so please contact one of customer service agents to inquire about a move.
Some Canada Moving Tips for DIY Moving
If you're packing the contents of your home yourself, you should still pack like a pro, and get the best materials.
Using liquor, or grocery store boxes not only doesn't provide the right protection for your packed items, but the inconsistent size and shape makes them difficult to load, and therefore more likely to fall or be crushed during transit.
Another major factor people overlook when packing, is the padding that they are using. Old newsprint, or magazine pages, though cost effective, leave stains on your belongings that may be hard to get out.
We recommend using unbleached, unprinted newsprint, and bubble wrap, alongside your own soft non-breakable items, such as linens and clothes.
It is always important to make sure boxes are filled all the way to the top, so that they maintain their structural integrity. It is also critically important to use the right size and shape of box for any given item.
We offer Cartons, and packing supplies for sale at cost to our DIY moving customers. Having Uniform size cartons that are well packed will make a world of difference in your DIY move.