PROFESSIONAL PACKING AND CRATING SERVICE

In the chaos of all of your moving preparations, one of the most important parts often doesn't get enough attention until the last minute – Packing! Moving large items has its challenges, but packing your personal items is truly the most difficult part of moving.
Protecting small and delicate items with proper packing is crucial. Canada Moving has over 100 years of experience in packing at competitive rates. 
When you compare the cost of materials and the time involved, professional packing can be a valuable option. Our expert staff can ensure that whatever it is you are moving will be prepared to make the trip damage-free.
When moving Internationally and deciding on what to take, consider if your small appliances and electronic devices can be used at destiatnon; do you need converters?  Is it worthwhile moving these items?  We can provide you with the information to make these decisions.
WHY CHOOSE US TO PACK YOUR BELONGINGS?
Many people do not realize that movers are not liable for items packed by the owner. In order to best protect your belongings against breakage, you will need to allow Canada Moving International to pack your belongings.
Most common packing mistakes that occur are not filling tops and spaces in cartons with paper, or linens to ensure contents of the carton do not shift in transit and to prevent the carton from crushing under the weight of other boxes being stacked on top. We use industry standard packing techniques and materials to reduce risk of damage during transit.
By allowing us to pack for you, you will be able to live comfortably in your home until a day or two before your move out date. Professional packing ser
vices also ensures that boxes are packed to capacity thus lowering the overall volume of the shipment. Unpacking service at destination allows for a counter top service (or to a flat surface) and removal of the d
ebris on day of delivery. All goods that we pack are covered against damage subject to the Insurance option you have chosen and paid for.   
KITCHEN OR BREAKA
BLES PACKING ONLY – AN OPTION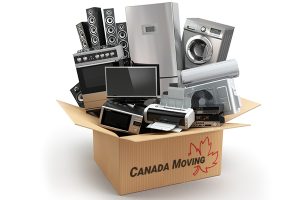 The kitchen is often the most stressful and time-consuming room to pack due to the number of fragile items and bulky kitchen appliances. Our experienced and professional movers know how to accurately pack up your kitchen items to save space and prevent damage. This can be a way to protect your more delicate items at a lower cost than a full pack.